Discover Your Future with Welfare Call Group: Visit us at the Barnsley Careers Fair on Weds 30th August 2023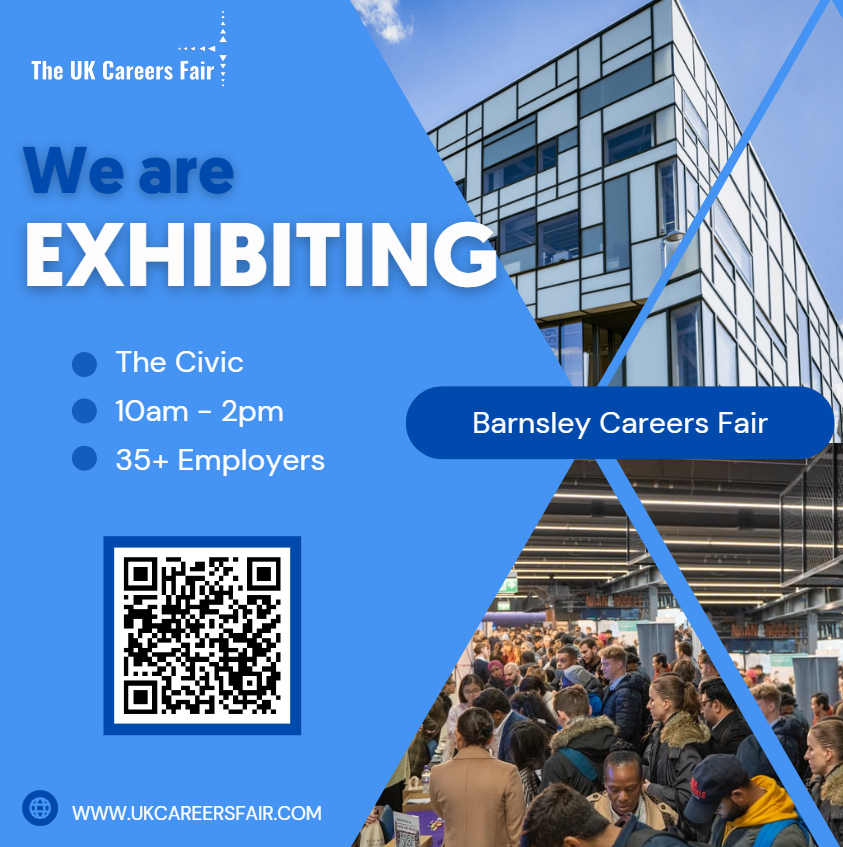 Are you a recent graduate, eager to embark on an exciting career journey? Or perhaps you find yourself at a crossroads, seeking a new path filled with growth and opportunities.
We're delighted to announce our participation in the upcoming Barnsley Careers Fair and look forward to meeting you there. Come and visit our stand, chat with the team, and explore the career options available.
There are lots of reasons why a role with Welfare Call Group could be the right move for you:
1. Unravel a World of Possibilities
Whether you're a fresh graduate eager to kickstart your profession or an experienced professional looking for a change, we have enticing opportunities tailor-made for you. Explore diverse career paths and find the one that aligns perfectly with your passion and skillset.
2. Embrace a Thriving Work Culture
We take immense pride in our vibrant work culture that fosters creativity, collaboration, and personal growth. At Welfare Call Group, you won't just be an employee; you'll be an integral part of a supportive family that values individuality and embraces diversity. Our workplace is somewhere where your ideas are heard, your efforts are recognised, and your accomplishments are celebrated.
3. Meet Our Inspiring Team
Visit our stand and meet with our accomplished team members, ready to share their success stories and experiences with you. Engage in meaningful conversations, gain insights into the industry, and learn how you can climb the ladder of success with us by your side.
4. Elevate Your Skills with Professional Development
We understand the importance of continuous growth and development. That's why we offer extensive training and mentorship programs to enhance your skills and keep you at the forefront of the industry. We also bring in the guidance of seasoned professionals, allowing you to thrive both personally and professionally.
5. Make a Difference
At Welfare Call Group, we believe in making a positive impact on society and the world around us. Join us in our mission to contribute to meaningful projects and initiatives that create a better tomorrow. We provide solutions and services to over 100 Local Authorities and organisations throughout the UK to support vulnerable children, improving their educational outcomes and 'narrowing the attainment gap'.
6. Unlock Attractive Benefits
Besides the rewarding work, we also offer a range of enticing benefits to support your well-being and work-life balance. From flexible schedules to employee-friendly policies, we create a comfortable workspace and our high levels of retention speak for themselves.
7. Embrace Innovation
The world is constantly evolving, and so are we. Experience a workplace that encourages innovation and embraces cutting-edge technologies. Be a part of groundbreaking projects that push the boundaries of what's possible.
Join us at the Barnsley Careers Fair and embark on an exciting journey towards a fulfilling career. Whether you're a fresh graduate or an experienced professional seeking a new beginning, we have something extraordinary to offer you. Don't miss the chance to discover your potential and unleash your greatness at the Welfare Call Group's stand. See you there!
Event Details:
Barnsley Careers Fair
Date: Weds 30th August 2023
Time: 10:00 am – 2:00 pm
Venue: The Civic, Hanson Street, Barnsley, S70 2HZ